FBFF: Oh, to be Inspired
This week's FBFF is continuing the celebration of its first anniversary. The questions, which are all about our inspirations, were actually the first questions posed for the original FBFF. If you're interested in joining FBFF and you're a style or beauty blogger, check out Katy's blog, Modly Chic. 
1. Which celebrities do you look to for fashion inspiration?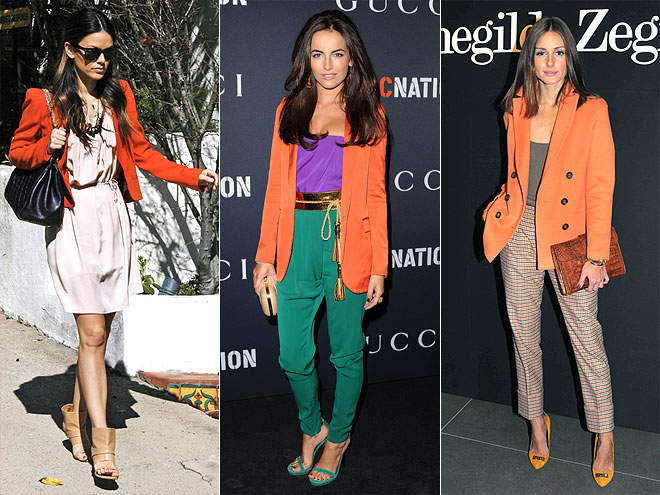 I was lucky enough to find this photo at People of all three of my favorite celeb inspirations. On the far left is Rachel Bilson, the current director of Sunglasses Hut, former OC star, and blogger obsession. She has great casual style that works for everyday, which is perfect for an undergrad like me who's constantly looking for ways to spruce up jeans.
In the middle is Camilla Belle, probably the newest of my celeb fashion inspirations. A lot of photos of her have surfaced recently that showcase her classic style, and she just has a way of looking polished all the time.
On the far right is Olivia Palermo, NY socialite and former star of The City. She is probably the reason I love menswear so much. Olivia knows how to layer, mix textures, and pair unexpected prints.
For other celeb inspirations of mine, check out this page here. 
2. When it comes to your own personal style, what inspires you?
I am a classic girl at heart who loves a little edge. Stripes are easily my favorite thing in my wardrobe right now, so any time I see a picture of someone wearing stripes (particularly in classic colors like red, navy, or yellow), I'm immediately drawn to the outfit. Leopard print is an inspiration, as well, and is quickly becoming a neutral in my wardrobe.
I also love shoes, particularly crazy, edgy ones. Unfortunately my college lifestyle and budget don't allow me to indulge in many pairs that aren't practical, but I think shoes are a great way to add a little rocker chic to any outfit.
3. How do you hope to inspire your readers?
I like to think of myself as real girl with a real body and a real budget. I'm not a size 2, and I don't have a lot of money to spend every month building my wardrobe. I hope to inspire my readers with ways to look stylish on a budget and with ways to be confident with their bodies and their wardrobes. Life is a journey and a growing process, and this blog is a means of tracking part of my journey and hopefully inspiring others with how I grow as a person and as a stylish young woman.
4. Outside the real of fashion, who and what inspires you?
Music has been a constant inspiration for me. I come from a very musical family and have been immersed in music and playing piano since before I can remember. Music has a way of tapping into emotions and deeper issues and communicating things in a way that nothing else can.
My writing professors always have a way of motivating and inspiring me. I love walking out of classes feeling empowered and able to write what I'm passionate about, and they have a way of believing in and encouraging me that makes me want to have that same attitude toward others.
5. And since Idol is ending, what songs inspire you?
I love The Classic Crime's "The Beginning (A Simple Seed)," House of Heroes' "Lose Control," Madina Lake's "Never Take Us Alive," and The Wedding's "Return." Rock and roll, baby.